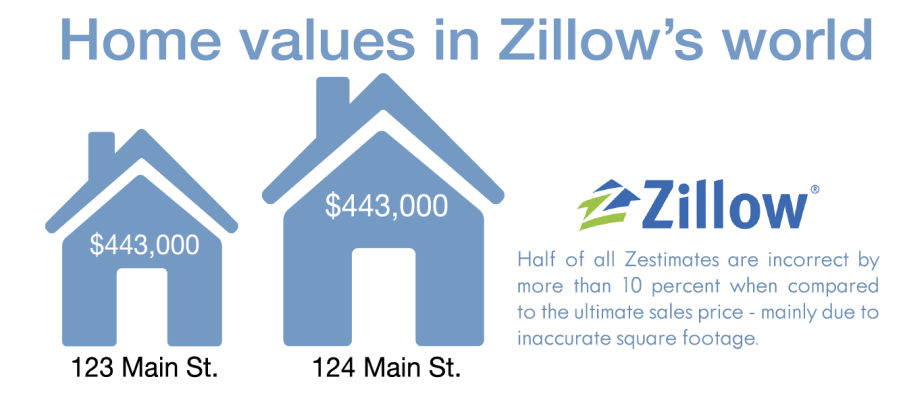 Why not just check Zillow?
One of the great evolutions in real estate over the last decade is the power of the Internet, and more than 90 percent of homebuyers begin their search there. We think that's great, and buyers are more empowered than ever with loads of information.
Some of that information can come from sites like Zillow that offer what's called an "automated valuation model" — AVM for short — that purportedly present a great estimate of the current market value of millions of homes. It's cool technology, amassing an enormous amount of information from publicly available sources in one place that is then scrubbed through very sophisticated algorithms to predict value. And all of that is presented in an easy-to-use user interface.
And to its enormous credit, Zillow has done a tremendous job in reaching "top of mind" status with consumers. There's just one problem: Those predicted values are wildly inaccurate and inconsistent.
As real estate agents, we know that one of our most difficult tasks is pricing a home. That holds true whether we are representing a seller or a buyer. Market pressures change from week to week and from neighborhood to neighborhood. The motivation of the parties is always a factor, as is the condition of a home and those around it. No algorithm, however sophisticated, can quantify the value of a kitchen that was remodeled just before a home was put on the market or a yard that is poorly maintained. It simply isn't possible for any AVM to predict the value of a home with a level of accuracy sufficient to make a housing decision.
Zillow knows that's true — and they say as much on their Web site (although you have to dig a bit to find it). They have this to say about their "Zestimates" of value: "The Zestimate is not an appraisal and you won't be able to use it in place of an appraisal, though you can certainly share it with real estate professionals. It is a computer-generated estimate of the worth of a house today, given the available data. Zillow does not offer the Zestimate as the basis of any specific real-estate related financial transaction. Our data sources may be incomplete or incorrect; also, we have not physically inspected a specific home. Remember, the Zestimate is a starting point and does not consider all the market intricacies that can determine the actual price a house will sell for."
FREE no obligation CMA with Kenneth Wang Realty!